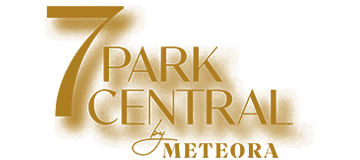 7 Park Central by Meteora at Jumeirah Village Circle - Dubai Sale
Jumeirah Village Circle - Dubai
Overview
7 Park Central in Jumeirah Village Circle (JVC) is a recent Meteora Properties in Dubai that provides a range of superior 1-bedroom luxury flats. Those will enjoy a meaningful lifestyle with their family and friends in modern residences with high-quality finishes and unique interiors. Surrounded by unique incredible accessibility and facilities to allow you to live modernly in the natural world.
It is one of the most beneficial choices of investments for buyers due to the opportunity of constructing a contemporary living paradise. Where people may fall in love, spend time with family, and explore career opportunities while immersing themselves in a wealth of fantastic amenities and excellent aspects to keep the pace of life moving with the spark Its designs and listening facade, custom-fit residences with spectacular outside, pocket gardens, social places, lush green surrounds, and picnic sites are magnificent. A wide range of fantastic and exclusive amenities all contribute to a healthier and more active lifestyle. Surrounded by beautiful greenery and verdant foliage, with increased possibilities for top-notch shopping and dining nearby.
Features & Amenities
At 7 Park Central, you may live freely in a world of basic and modern conveniences. It is a center brimming with the best of the best in many life dimensions, pushing you to be the best version of yourself in every way. Improve and tend to yourself with all that is available in a well-rounded and well-growing lifestyle.
Master Plan
Meteora Properties 7 Park Central will be a fantastic and unique master plan project in the heart of the JVC in Dubai. You will be able to experience superb living within the premium lifestyle version, where a variety of amenities and services will make your days more enjoyable.
Lost yourself in the beauty of this charm that is living in the Jumeirah Village Circle, where inhabitants will be able to live their best life without any stress. Many notable beaches, international hospitals and schools, top-tier commercial centers, and attractions are nearby.
Location
7 Park Central is situated in the center of Dubai's Jumeirah Village Circle (JVC), where all things are within a short distance, including basics, significant destinations, tourist attractions, and iconic monuments. The location provides a lovely lifestyle for its premium consumers.
You will be able to luxuriate in a life that is great and modern in every shape and style just outside your door. With its appealing alternatives and near proximity to fashionable sites and social areas, vast open spaces and luxuriant greenery, sports, and facilities.